---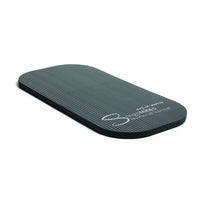 The soft, rectangular mat serves as padding for your knees during exercises in quadruped and kneeling or in deep lunges. With its soft texture, the mat can help reduce pressure points and discomfort in the knee area. The Kneeling Pad can be used as a supplement to your training mat. It can also be used as a headrest, either in its normal flat position or rolled up for more height. Place it under the head to align the head, neck and shoulders, under the pelvis in the supine position and under the abdomen in the prone position to lengthen the lumbar spine, or as a precautionary measure for contraindications.
The Slings Kneeling Pad can also be used as an elbow pad in side support positions for greater comfort. Other uses: hand and foot pads, anti-slip mat.
50 x 24 x 1.5 cm, black
BPA-free, latex-free, formamide-free, non-toxic plastic, super-hygienic: closed cell structure, anti-germ protection, easy to clean with water, long service life: remains resilient, supple and dimensionally stable.